Contaminant Transport Through Aquitards
A State of the Science Review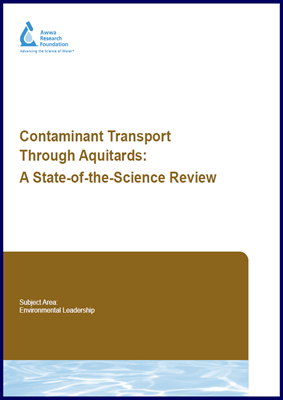 Publication year: 2006
Number of pages: 126
Publisher: The Water Research Foundation (formerly AwwaRF)
A GW-Project preserved  book
Authors:
J.A. Cherry – University of Waterloo, Canada
B.L. Parker – University of Waterloo, Canada
K.R. Bradbury – Wisconsin Geological and Natural History Survey, USA
T.T. Eaton – Wisconsin Geological and Natural History Survey, USA
M.B. Gotkowitz – Wisconsin Geological and Natural History Survey, USA
D.J. Hart – Wisconsin Geological and Natural History Survey, USA
M.A. Borchardt – Marshfield Clinic Research Foundation, USA
This is Part One of a two-volume set that provides information for groundwater managers to gain an understanding of aquitards.
The book set provides technical guidance for evaluating aquitard integrity and predicting chemical and microbial transport to underlying aquifers. Aquifers and aquitards make up groundwater flow systems, with aquitards having much lower permeability than aquifers. Aquitards help protect underlying aquifers, and the water-supply wells completed in them, from contamination. The degree of this protection depends on many factors, including contaminant type, hydrogeologic setting, flow system dynamics, and local effects of groundwater pumping. Determination of aquitard integrity is an important aspect of groundwater management because without it, predictions of future groundwater quality cannot be reliable. This study developed two volumes that together meet The Water Research Foundation's (formerly AwwaRF) objectives of understanding how aquitards affect contamination susceptibility.
Part One is Contaminant Transport Through Aquitards: A State of the Science Review. It summarizes the current knowledge of aquitard science.
Part Two is Contaminant Transport Through Aquitards: Technical Guidance for Aquitard Assessment. It provides guidance concerning investigations of aquitard integrity and summarizes specific technical methodologies.
CHAPTER 1: INTRODUCTION
1.1 Background and Definitions
1.2 Hydrogeologic Functions of Aquitards
1.3 Types of Contaminants
1.4 Measures of Aquitard Integrity
1.5 Assumptions and Misconceptions
CHAPTER 2: HYDROGEOLOGIC SETTINGS FOR AQUITARDS
2.1. Basic Characteristics of Aquitards
2.2 Geologic Origins of Aquitards
CHAPTER 3: GROUNDWATER FLOW THROUGH AQUITARDS
3.1 Flow Across Aquitards in Regional Groundwater Flow Systems
3.2 Hydraulic Head Distribution
3.3 Determination of Hydraulic Conductivity of Aquitards
3.4 Darcy Flux and Average Linear Groundwater Velocity
3.5 Occurrence of Fractures in Aquitards
3.6 Cross-connecting Boreholes in Aquitards
CHAPTER 4: CONTAMINANT MIGRATION THROUGH AQUITARDS
4.1 Framework for Consideration of Contaminant Migration
4.2 Diffusion Dominated Unfractured Aquitards
4.3 Influence of Matrix Diffusion on Contaminant Migration in Fractured Aquitards
4.4 DNAPL Entry and Flow in Aquitards
4.5 Effects of DNAPL on Aquitard Permeability
4.6 Environmental Isotopes and Natural Chloride as Tracers for Migration Pathways and Rates
4.7 Simulating Flow and Transport through Fractured Aquitards
CHAPTER 5: BIOLOGICALLY ACTIVE CONTAMINANTS IN AQUITARDS
5.1 Introduction
5.2 Virus Occurrence in Confined Aquifers
5.3 Clayey Aquitards
5.4 Virus Transport Models
5.5 Factors influencing Virus Transport and Survival
5.6 Conclusions and Recommendations
CHAPTER 6: SUMMARY AND CONCLUSIONS
6.1 Summary
6.2 Conclusions
REFERENCES
ABBREVIATIONS