Petroleum Hydrocarbons in Groundwater:
Guidance on Assessing Petroleum Hydrocarbons using existing hydrogeological risk assessment methodologies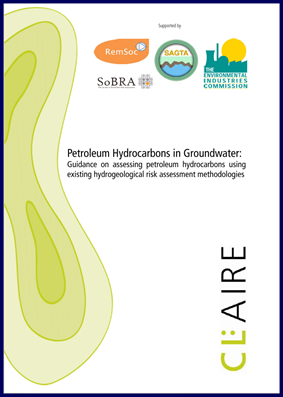 Publication year: 2017
Number of pages: 39
ISBN: 978-1-905046-31-7
A GW-Project preserved  book
Authors:
David Brown
Ben Fretwell
Nicola Harries
Kirsten Johnstone
Jonathan Smith
Lucy Thomas
Download from: Contaminated Land: Applications in Real Environments (CL:AIRE)
This document provides guidance on assessing the risks to groundwater and surface water from petroleum hydrocarbon compounds. It complements the Environment Agency's guidance given in the Remedial Targets Methodology (Environment Agency, 2006a and 2006b) and should be read alongside that report and Groundwater Protection: Principles and Practice (GP3, Environment Agency, 2013). The objective of this guidance is to establish an effective, reliable and consistent approach to petroleum hydrocarbon assessment within hydrogeological risk assessments. This document aims to provide advice on how to:
Evaluate the risk from hydrocarbon mixtures;
Consider analytical techniques available;
Estimate the implications of non-aqueous phase liquid (NAPL) for dissolved phase groundwater risk assessments; and,
Promote a lines of evidence approach to evaluate the importance of biodegradation of other natural attenuation processes.