The Importance of Groundwater
Groundwater is a vital water supply for humanity. Groundwater provides drinking water entirely or in part for as much as 50% of the global population and accounts for 43% of all of water used for irrigation. Worldwide, 2.5 billion people depend solely on groundwater resources to satisfy their basic daily water needs.
The Earth's population of nearly 8 billion in 2020 is expected to reach 11 billion by 2100. Humans will have to learn to produce sufficient food without destroying the soil, water and climate. This has been called the greatest challenge humanity has faced. Sustainable management of groundwater is at the heart of the solution. Scientific understanding and proper management of groundwater is essential, because groundwater can alleviate the problem if we seek its responsible use and replenishment.
Groundwater and the Earth
Although hidden below the Earth's surface, groundwater makes up 99% of Earth's liquid fresh water and plays an important role in the water cycle. Rivers, lakes and wetlands are surface manifestations of groundwater, exchanging flow with the groundwater reservoir that feeds them when they need water and takes some of their flow when surface water is present in excess.
Groundwater also controls many features on the Earth's surface. The depth of the water table is partly responsible for different plant species occupying different positions along the slopes from hill to valley, as only the drought tolerant plants can live on dry hill sides and water tolerant plants live near streams. Dissolution of carbonate rocks by flowing groundwater creates caves and sinkholes. In desert environments, groundwater discharge forms oases, which provide provide habitats for animals and plants.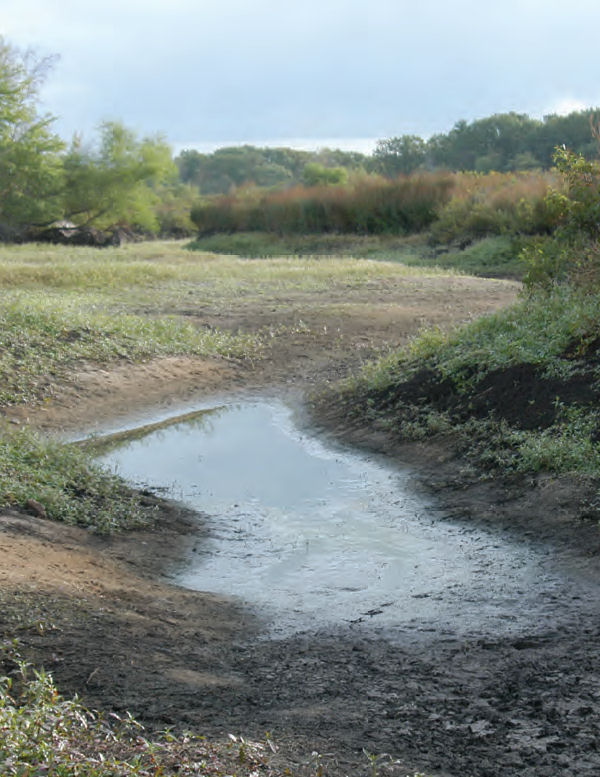 Pool and dry river bed resulting from groundwater withdrawal. Photo by David Armstrong, U.S. Geological Survey, public domain.
Modern scientific measurements show that many of major aquifers (groundwater reservoirs) of the world are being depleted. Such depletion can lead to decrease in stream flow, drying of springs or wetlands, loss of vegetation, water-level declines in wells, and land subsidence. Yet another threat to groundwater is pollution resulting from human activity, generating chemicals and wastes that have leaked into the subsurface. Pollution degrades the quality of groundwater and poses a threat to human and ecological health.
As the human population grows, more demand will be placed on groundwater, a vast, but finite, resource. The need for understanding our groundwater systems and for managing them in a thoughtful manner within the constraints of the hydrologic cycle, is greater than ever.
To learn more about groundwater, please visit our Books web page, where you will find a growing number of books for readers of diverse interests.