Groundwater in Our Water Cycle
Getting to Know Earth's Most Important Fresh Water Source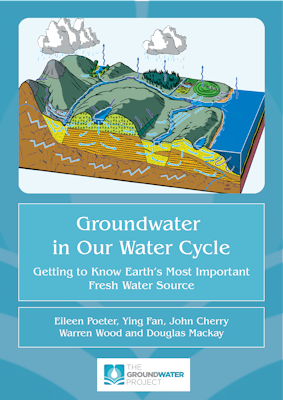 Publication year: 2020
Number of pages: 136
ISBN: 978-1-7770541-1-3
https://doi.org/10.21083/978-1-7770541-1-3
Turkish translation
ISBN: 978-1-77470-008-2
Catalan translation
ISBN: 978-1-77470-028-0
Authors:
Eileen Poeter – Colorado School of Mines, USA
Ying Fan – Rutgers University, USA
John Cherry – G360 Institute for Groundwater Research, Canada
Warren Wood – Michigan State University, USA
Douglas Mackay – University of California, Davis, USA
Turkish translation by Alper Elçi, Dokuz Eylül Üniversitesi, İzmir, Türkiye
Catalan translation by Josep Mas-Pla, Universitat de Girona, Institut Català de Recerca de l'Aigua
Groundwater makes up 99% of Earth's liquid fresh water and is vital for the sustenance of rivers, lakes, wetlands, and ecological systems. However, few people see groundwater because it is hidden beneath the land surface. To overcome this "hiddenness", this book invites the reader to think about Earth's fresh water in a new way, to envision that all the surface water we see in rivers, lakes and wetlands is just the tip of the Earth's vast fresh water reservoir; that is, just the "tip of the iceberg" with the hidden portion of the "iceberg" being liquid groundwater rather than ice.
Groundwater shapes the Earth through weathering and geomorphologic processes. Rivers, lakes and wetlands are surface manifestations of groundwater, exchanging flow with the groundwater reservoir that feeds them when they need water and takes some of their flow when surface water is present in excess. This book draws attention to the ways in which the surface water that we can see is connected to and supported by the hidden groundwater reservoir that is continually flowing and replenishing the hydrologic cycle.
This continual flow of groundwater is a large, slow moving reservoir of fresh water (in its shallower realms), that reacts chemically with geologic materials along its flow paths, and interfaces with the water transport systems of rivers and the atmosphere. This vast groundwater reservoir serves as: 1) a regulator of the fresh water hydrologic cycle by mediating the flow of continental surface waters; 2) a chemical factory and conveyor belt for processing Earth's material and transporting it from the continents to the oceans; 3) a waste repository/processing plant; and, 4) a global life support system.
The Earth's population of nearly 8 billion in 2020 is expected to reach 11 billion by 2100. Humans will have to learn to produce sufficient food without destroying the soil, water and climate. This has been called the greatest challenge humanity has faced. Sustainable management of groundwater is at the heart of the solution. Scientific understanding and proper management of groundwater is essential, because groundwater can alleviate the problem if we seek its responsible use and replenishment through better governance.
1 PREAMBLE
2 PURPOSE
3 THE EARTH'S PLUMBING SYSTEM
4 THE BELOW-GROUND PORTION OF OUR WATER CYCLE
4.1 The Shallow View
4.2 The Deeper View
Groundwater Connection with Landscape
Groundwater Connection with Streams
Groundwater Connection with Springs
Groundwater and Wells
4.3 The Regional-Scale View
Aquifers and Confining Units
Aquifer Storage
4.4 The Continental-Scale View
5 GROUNDWATER RESIDENCE TIME
6 GROUNDWATER HAS A ROLE IN ALL OF EARTH'S TERRAINS
6.1 Groundwater In Mountain Settings
6.2 Groundwater In Karst Settings
6.3 Groundwater In Permafrost Settings
7 THE UNIQUE FUNCTIONS OF GROUNDWATER IN EARTH'S HYDROLOGIC SYSTEM
7.1 Groundwater As a Hydrologic Regulator
7.2 Groundwater Is a Geochemical Factory And Conveyor Belt
Natural Chemical Constituents in Groundwater
Origin of Dissolved Constituents in Groundwater
Occurrence of Salty, Mineral-rich Groundwater
Geochemical Factories and Conveyor Belts in Dry and Wet Climates
7.3 Groundwater as a Waste Repository (Out Of Sight, Out Of Mind)
7.4 Groundwater as a Global Life Support System
Groundwater for Agriculture and Drinking Water
8 DISAPPEARING GROUNDWATER
9 CHALLENGES IN GROUNDWATER GOVERNANCE
10 EPILOGUE
11 EXERCISES
11.1 CONSIDER THE AREA WHERE YOU LIVE
11.2 CONSIDER GENERAL CONDITIONS IN ALL AREAS
12 REFERENCES
13 EXERCISE SOLUTIONS
13.1 CONSIDER THE AREA WHERE YOU LIVE
13.2 CONSIDER GENERAL CONDITIONS IN ALL AREAS
14 ABOUT THE AUTHORS
MODIFICATIONS TO ORIGINAL RELEASE
Interview with Alper Elçi (Turkish translator)
Interview with Josep Mas-Pla (Catalan translator)