Domestic Wells – Introduction and Overview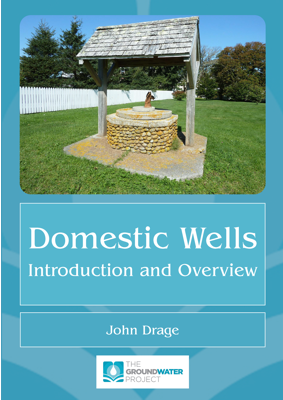 Publication year: 2022
Number of pages: 68
ISBN: 978‑1‑77470‑035‑8
Author:
John Drage – Nova Scotia Geological Survey, Canada
Privately owned domestic wells provide water to hundreds of millions of people around the world. They are the most common type of water supply used in rural areas where public water supplies are not available. Because they are privately owned, and often located in sparsely populated areas, they are difficult to monitor and protect. Domestic wells are largely unregulated, except for their initial construction, and it is the responsibility of the well owner to maintain their well and ensure the water is safe to drink.
Unfortunately, many domestic well owners do not have the resources to protect their well or regularly test their water quality. As a result, domestic wells are the most common way for people to be exposed to groundwater contaminants. Despite these risks, the majority of domestic wells provide safe and reliable water supplies. Where public water supplies are not available, domestic wells are usually the best water supply option, as long as they are properly constructed, located away from contaminant sources, and regularly maintained and monitored.
This book provides an introduction to domestic wells, including their construction, regulation, vulnerability, protection, and the valuable data they can provide for groundwater research. It is part of a series of books on domestic wells, each of which provide  greater  detail  on  the  domestic  well  topics  that are covered at an  introductory  level  here.
This book focuses on domestic wells in Canada and the United States, although some information from other countries is presented. This book is primarily written for students, groundwater professionals, and policy makers with a background in water science and a professional  interest in domestic wells.
1 INTRODUCTION
2 DOMESTIC WELL DEMOGRAPHICS
2.1 Who Uses Domestic Wells?
2.2 Estimating the Number Of People that Use Domestic Wells
3 DOMESTIC WELL CONSTRUCTION
3.1 Drilled Wells
3.2 Dug Wells
3.3 Other Well Types
3.4 Components of a Domestic Well and Water System
Well Components
Water System Components
4 WATER QUANTITY FOR DOMESTIC NEEDS
5 WATER QUALITY OF DOMESTIC WELLS
5.1 Overview
5.2 Contaminants in Domestic Wells
Microbial Contaminants
Arsenic
Fluoride
Nitrate
Manganese
Lead
Pesticides and Volatile Organic Compounds
Emerging Contaminants
6 DOMESTIC WELL VULNERABILITIES
6.1 Lack of Water Quality Monitoring
6.2 Water Treatment Challenges
6.3 Vulnerability to Contamination
Contaminant Sources Near Domestic Wells
Domestic Wells in Shallow Aquifers
Microbial Contaminants in Domestic Wells
6.4 Vulnerability to Groundwater Level Declines
7 DOMESTIC WELL PROTECTION
7.1 Regulations
7.2 Education and Outreach Programs
7.3 Other Protection Methods
8 DOMESTIC WELLS AND RESEARCH
9 SUMMARY AND PATH FORWARD
9.1 Water Quality
9.2 Water Quantity
9.3 Domestic Wells and Technological Advances
10 EXERCISES
Exercise 1
Exercise 2
Exercise 3
Exercise 4
11 REFERENCES
12 BOXES
Box 1 How Much Water is Needed From a Domestic Well?
Box 2 Domestic Well Contamination Discovered by Health Effects
Box 3 Domestic Well Contamination Near a Waste Disposal Site
13 EXERCISE SOLUTIONS
Solution Exercise 1
Solution Exercise 2
Solution Exercise 3
Solution Exercise 4
14 ABOUT THE AUTHOR