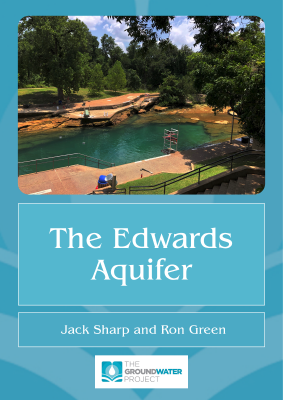 Publication year: 2022
Number of pages: 90
ISBN: 978‑1‑77470‑029‑7
https://doi.org/10.21083/978-1-77470-029-7
Authors:
Jack Sharp – The University of Texas, USA
Ron Green – Southwest Research Institute, USA
The Edwards Aquifer system of Texas is a very productive and highly studied karst aquifer. It provides water for over 2 million people and for agriculture, industry, recreation, and environmental uses, but its sustainable use is challenged by rapidly increasing urban population (expected to double in several decades), climate change (increased droughts and floods), urbanization and contamination, protection of groundwater ecosystems and their endangered species, and evolving water laws and policies.
This book reviews various units of the aquifer system and its unique geologic, hydraulic, water quality, ecologic, legal, and environmental aspects. Despite over a century of study of the Edwards, there remain significant challenges to the sustainable use of this aquifer.
Better mapping and more detailed field data, improved numerical models, enhanced recharge, more optimal pumping strategies, and new technologies, including desalination and aquifer storage and recovery, will have to be implemented to meet the challenges of the Edwards and karst aquifers globally.
1 INTRODUCTION
2 STRATIGRAPHY AND STRUCTURE
3 AQUIFER PROPERTIES
3.1 Porosity and Storativity
3.2 Permeability
3.3 Residence Times
3.3.1 Isotopic Ages
3.3.2 Tracer Tests
3.4 Water Chemistry
4 FLOW SYSTEMS
4.1 Discharge and Recharge
4.1.1 Discharge
4.1.2 Recharge
4.2 Segment Flow Systems
4.2.1 The San Antonio Segment
4.2.2 Barton Springs Segment
4.2.3 Northern Segment
4.2.4 Kinney Segment
4.3 Associated Edwards Aquifers
4.3.1 Edwards Trinity (Plateau) Aquifer
4.3.2 Washita Prairies
5 AQUIFER ECOLOGY AND ENDANGERED SPECIES
5.1 Endangered Species
5.2 Bad Water Line
6 LEGAL AND ADMINISTRATIVE SYSTEMS
6.1 Numerical Models For Developing Management Strategies
6.2 Edwards Aquifer Authority
6.3 Other GCDs
7 CONCLUSION
7.1 Sustainability
7.2 Challenges
8 EXERCISES
9 REFERENCES
10 EXERCISE SOLUTIONS
11 ABOUT THE AUTHORS