Water Well Record Databases and Their Uses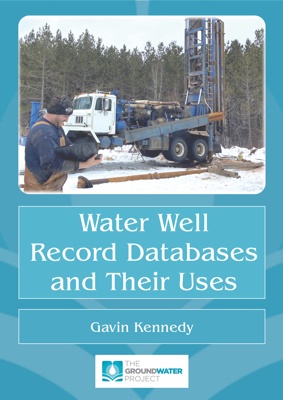 Publication year: 2022
Number of pages: 40
ISBN: 978‑1‑77470‑033‑4
Author:
Gavin Kennedy – Nova Scotia Department of Natural Resources and Renewables, Canada
Italian translation by Alessio Fileccia
Released: 26 September 2023
This book highlights the importance of well record management as a critical component of groundwater and drinking water management programs. The book provides an overview of the history, availability, uses, shortcomings and best practices of these databases, which is useful background for students, educators, researchers, groundwater professionals and managers interested in learning about this topic.
Over the past 50 years well record databases have evolved in many jurisdictions from a hard copy archive of well record forms to the open distribution of well record data over the internet in a digital format. Where available, weblinks to digital well record databases from around the world are provided in the book, although the availability of water well record databases remains highly variable.
The book also identifies the diverse types of users of well record information and provides several examples of how well record data are used to support groundwater assessment and research. The discussion on common deficiencies and best practices for well record data management may be used as a framework for improvements to well record management programs. Continued improvements to data quality and internet accessibility will foster greater utilization of these datasets for groundwater management and research.
1 INTRODUCTION
2 WATER WELL RECORD INFORMATION AND SUBMISSION REQUIREMENTS
3 HISTORY OF WELL RECORD DATABASES
4 AVAILABILITY OF WELL RECORD DATABASES
5 USES OF WELL RECORD DATABASES
6 SHORTCOMINGS OF WELL RECORD DATABASES
7 BEST PRACTICES FOR WATER WELL RECORD MANAGEMENT
8 CONCLUSION
9 EXERCISES
Exercise 1
Exercise 2
Exercise 3
Exercise 4
Exercise 5
Exercise 6
Exercise 7
Exercise 8
10 REFERENCES
11 BOXES
Box 1 History Of The Nova Scotia Well Logs Database
Box 2 The Groundwater Information Network
Box 3 Use of Well Record Data to Identify Areas of the United States Vulnerable to Seawater Intrusion
Box 4 Use of Well Record Data to Characterize Regional Aquifer Hydraulic Conductivity
Box 5 Use of Well Record Data to Compare Yield Distributions
Box 6 Use of Well Record Data to Identify Dry Wells in the Western USA
Box 7 Use of Well Record Data for Identification of Surficial Aquifers In Nova Scotia, Canada
12 SOLUTIONS
Solution Exercise 1
Solution Exercise 2
Solution Exercise 3
Solution Exercise 4
Solution Exercise 5
Solution Exercise 6
Solution Exercise 7
Solution Exercise 8
13 ABOUT THE AUTHOR