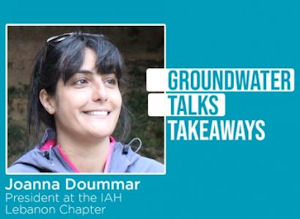 "Groundwater is one of the most important and vital resources of our society and it's important that you know it."
That's how Joanna Doummar, our guest at today's Groundwater Talks, sees groundwater. In this interview we talk about her work with micro-pollutants in groundwater in Lebanon, her career, the future of groundwater and much more.
Give us your feedback on the interview at the comments section and tell us which subjects you would like to see being discussed at the next Groundwater Talks.
Youtube: https://www.youtube.com/watch?v=JFkJxqvimXU&feature=youtu.be
Get to know more about The Groundwater Project: https://gw-project.org/about/