On February 3, 2021 we had the first talk of the 1st Groundwater Project Event: Making Groundwater Visible! The event started off with great success, with 1517 subscribers on the event, 847 subscribers on the YouTube channel and over 2000 views on the talks until now. It could not have been different, as it has a team of excellent speakers and a lot of interaction from the participants.
At the Grand Opening & GW-Project Presentation we had the presence of Dr. Everton de Oliveira, Dr. John Cherry and Dr. Ineke M. Kalwij, who gave an overview of the Groundwater Project and future expectations, then the "Groundwater Book" talk with Dr. Allan Freeze and Dr. John Cherry brought a little of the history of this huge classic in the groundwater area.
According to Dr. Allan Freeze "we reviewed each other's chapters very carefully as I recall John, I mean I can recall, and we agreed with each other that we weren't going to be insulted when I wrote what I thought was the most beautiful piece of prose in history and John stroke it all out and put in something better, you know, vice versa" and Dr. John Cherry completed by saying that "I was really lucky with the credibility that the book gave me, you know, credibility way beyond what any knowledge I would claim and in a way that's almost, you know, it reminds me of how dangerous it is when you know one moment you are kind of a struggling professor hoping that you know what you are talking about and then a few years later you are this world-famous person and people think you understand all sorts of things". Without a doubt, it was a very interesting talk. If you missed it live, you can still watch the recorded version here.
On February 5th the speakers William M. Alley, Leonard Konikow and David Kreamer presented the All for Groundwater panel. Bill Alley highlighted the importance of education by saying "education is the key and that's why the project is really so important in my view… all of the world's most pressing environmental problems including those in groundwater, require cooperation, collective action and so groundwater education has to be broadened to address these issue" and Lenny added that "in some places we are seeing new regulation being passed and implemented to protect groundwater resources and encourage or we actually require any development to be sustainable and this is certainly a very good development for society and reflects progress and improved general understanding of groundwater processes". David brought in his speech a lot of passion for groundwater and with a quote from Nelson Mandela that said "if you talk to a person in a language they understand that goes to their head, but if you talk to them in their own language that goes to their heart and certainly there are many languages of water and groundwater throughout the world. Our language reflects our aspirations for water and groundwater and the very language of groundwater and water throughout the world shows its multiple connections and its importance in the face of the onslaught of population growth and global warming". You can watch the whole talk here.
After that, the event moved on with the Have your name on a classic panel, and we had a discussion about the translations of the book Groundwater into different languages. Dr. Everton de Oliveira emphasized that "our aim in the Groundwater Project is to reach not only hydrogeologists and not only hydrogeologists want-to-be, but people in general (…) so important since groundwater makes up 98% of the liquid water available for us to drink", Gani Nessipbekov in turn said that "the idea of translating gives you confidence that people have all the information and knowledge about groundwater in their own wish, so they understand it, they learn it and use it". Dr. David Bethune left us an important message when he said "I think globally it is about 50 or so but I've working in countries where it is 70, 80, 90% groundwater usage with very few people with an education in groundwater and very few local education opportunities and I've also seen the importance of language and how important it is to have materials in your own working language". Watch the talk here.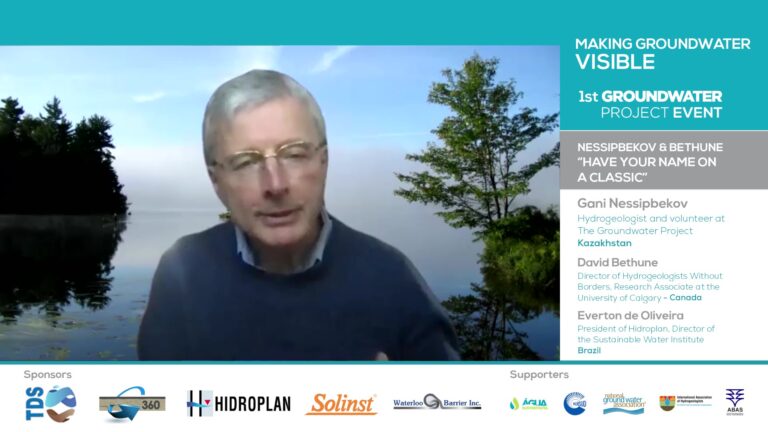 On February 10, the Social media discussion talked about our social networks, an important topic, as the social media is an instrument that contributes to the reach of the Groundwater Project and the engagement of people. With a wide reach on Twitter and with relevant and quite interesting publications for groundwater, Dr. Michael Campana said in his speech "Twitter can be used for very evil purposes just like, you know, the internet in general, anything, but if you use it correctly and I like to think I do, it's a wonderful thing, you can send stuff around the world". Our other speaker, Rodrigo Cordeiro, told us a little about his experience in holding events in the water area and his learnings with the organization of the 8th World Water Forum, held in Brazil. He told us "I have been working with groundwater since 96 … When I heard about groundwater, the importance of the numbers of groundwater, it became a passion for me. So I have been working really close to the Brazilian Groundwater Association and it is a pleasure for me to join the guys that I met during my whole life". Watch the talk here.
The last two meetings of the week were marked by big authors of classics, Hidrología Subterránea (February 10) and Quantitative Hydrogeology: Groundwater Hydrology for Engineers (February 12). Dr. Emílio Custódio and Dr. Manuel Ramón Llamas talked about their careers and partnership in writing the book Hidrología Subterránea, people from all over the world watched the meeting and interacted through the chat, showing how important this book was in their careers and as it is still widely used. Watch the panel here.
Dr. Ghislain De Marsily together with a respected team composed of Dr. Craig Simmons, Dr. Hayet Chihi and Dr. Maria Schafmeister spoke about Marsily's book Quantitative Hydrogeology: Groundwater Hydrology for Engineers. In an enthusiastic conversation, Dr. Ghislain De Marsily is not only a magnificent professional, but also a friendly, generous person who conducts his speech with the public very well. Watch it here.
Check out all the talks on our YouTube Channel and subscribe so you don't miss any of them. Learn more about the next panels and speakers and join us for the next talks!