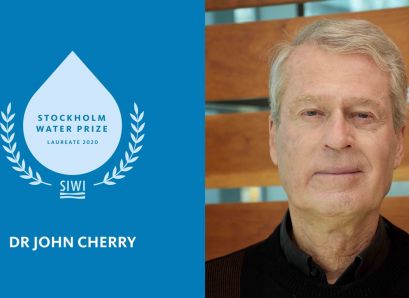 Just released! John Cherry is the 2020 recipient of the Stockholm Water Prize (from the Stockholm International Water Institute), considered the Nobel Prize for Water. This award has been presented annually since 1991 and is announced on March 22. The laureate receives the prize from H.M. King Carl XVI Gustaf of Sweden, who is the patron of the prize.
John's Contributions to Water in the World
Above all, John Cherry is a great soul, who has devoted his life to doing good for groundwater science and practice, with practical results all over the planet. Over a million professionals have followed his safe guidance on how to use science for a good cause, learning essential concepts and using them to recover and maintain the quality of groundwater, in particular, and water in general. His 40-year-old textbook "Groundwater", written with Allan Freeze, is a masterpiece and considered by many to be the "go to" resource for hydrogeology. It is still in use in many universities around the world sharing knowledge and sound principles.
Many generations of students in Latin America, Africa and Asia, not to mention those in developed countries, were excited to hear about the upcoming learning experience offered by his Groundwater-Project initiative. A memorable scene happened with two Turkish students coming to him and asking for a selfie, saying: "Dr. Cherry, you're Michael Jackson of groundwater!" John Cherry leads by example.
His contributions are so numerous, in many different areas of knowledge, that it would be unfair to single out just one. He is the indisputable leader for awareness of soil and groundwater contamination and the practice of assessing and remediating contaminated soil and groundwater. The world's understanding and attitude towards contaminated sites and groundwater have changed under his vision and influence. Organic contaminants such as solvents and hydrocarbons were far from people's minds before John's work to highlight the problem and address such contamination. After John raised awareness about contamination, the science that followed led to the creation of laws to protect the groundwater environment. Today, a major portion of environmental liability addressed by businesses is related to soil and groundwater contamination, and this is part of John Cherry's work legacy. His independent thinking, daring, and courage to face big corporations who were comfortable with their hidden or buried contaminants led to a cleaner, safer world for all of us. With great vision, he unveiled the problem. If artists are the antennae of the race, as Ezra Pound put it, then John Cherry is a great artist, as well as a great scientist. Since groundwater represents 99% of the fresh liquid water on Earth, his contribution is outstanding.
John continues to contribute through the Groundwater Project
When most people would benefit from a deserved retirement, his passion and determination for the cause of groundwater and education brought him to initiate the Groundwater Project. This project has nearly 300 top professionals writing books on different groundwater related topics to synthesize existing knowledge and be distributed free-of-charge on the internet. More than 500 books are scheduled to be produced and a larger number of renown scientists are committed to author books. All materials will be available for voluntary translations and free distribution. His 1979 book is already being freely distributed in English, Portuguese and Turkish. There have been over 50,000 downloads of the Portuguese version alone. Spanish, French, Italian, Chinese, Greek, Russian and Kazakhstani translations are in progress. Many more will follow. Prestigious collaborating professionals from several countries are joined with volunteers throughout the world to greatly expand and deepen the knowledge of concepts and practices devoted to the well-being of water. This initiative is innovative and unprecedented. It is noble and it is happening because of John Cherry's wisdom, courage and determination.
Check out the award winner's announcement and the full interview with John Cherry: