The Groundwater Project Event will hold a series of free meetings and debates between the 3rd and 26th of February 2021 with the greatest references in hydrogeology in the world.
One of the talks will be "Have your name on a classic", the speakers David Bethune (Director of Hydrogeologists Without Borders, Research Associate at the University of Calgary – Canada), Everton de Oliveira (President of Hidroplan, Director of the Sustainable Water Institute – Brazil) and Gani Nessipbekov (hydrogeologist from Kazakhstan) will discuss their experience of translating the book Groundwater (Freeze & Cherry, 1979) into other languages, such as Portuguese, Kazakh, Russian, French, Spanish, Greek, Italian and more.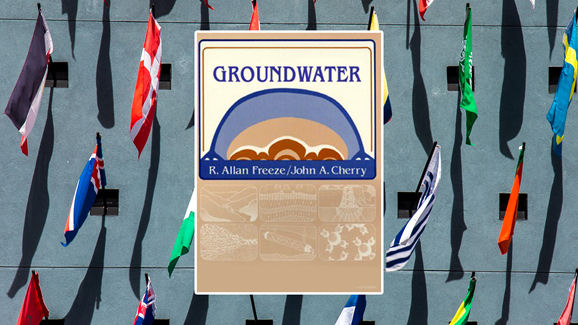 The history of the translation of this book has its roots in 2015 after Cathryn Ryan and David Bethune at the University of Calgary initiated the transfer of rights for the famous Groundwater textbook (Freeze & Cherry, 1979) back to their authors. To advance the state of the science worldwide, the authors then agreed to provide free downloads of the original text and translations through the Hydrogeologists Without Borders website. This laudable initiative provided the inspiration for the much larger Groundwater Project aimed at updating and largely expanding the coverage of the original book.
The translation into Portuguese took place through the praiseworthy initiative of Dr. Everton de Oliveira, who through the help of an email campaign got help from 300 volunteers who in 2 months of work completed the translations into Portuguese. Only the Portuguese version over the year 2018 had about 50,000 downloads!
Kazakh and Russian translations are being carried out and coordinated by Gani Nessipbekov. In a first contact with the leader of the Groundwater Project, Dr. John Cherry, and later with Dr. Everton de Oliveira (Steering Committee of the Groundwater Project), Gani Nessipbekov showed his interest in translating the book Groundwater and has performed an admirable job.
Volunteer work is one of the most important tasks of the Groundwater Project because through it we can create a global groundwater community, show the importance of this paramount resource for life and reach and engage more people with the project's mission: contribute to advancement in education by creating and making available online free high-quality groundwater educational material for all.
Don't miss the event and subscribe to learn more about translation and about this noble project: https://events.gw-project.org/2021
The world needs water, groundwater! Volunteer as a translator for the Groundwater Project now: https://bit.ly/gwp_translators